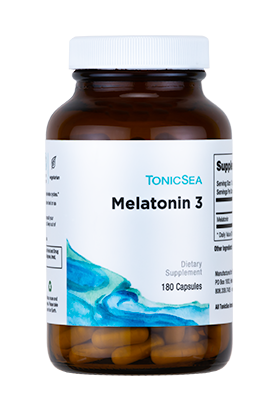 | Ingredient | Amount | Daily Value |
| --- | --- | --- |
| Melatonin | 3 mg | * |
| * Daily Value (DV) not established. | | |
New larger size!
Studies show that melatonin may be associated with the regulation of sleep/wake cycles. The pineal hormone, melatonin, is a simple derivative of tryptophan and serotonin. Endogenous melatonin is synthesized and released in response to light and dark on the retina. Its secretion is inhibited by bright light. It has also been suggested that chronic exposure to electromagnetic fields may suppress melatonin production.
◆
Melatonin also functions as an antioxidant. It scavenges the damaging hydroxyl radical. Like other hormones, melatonin is produced in abundance in early life, but declines steadily with age.
◆
Other Ingredients :
Hypromellose (capsule), Rice Protein.
Recommendations :
Take 1 capsule 30 to 60 minutes before bed or as directed by your healthcare practitioner.
If you are pregnant or nursing consult your healthcare practitioner before use. Keep out of reach of children.