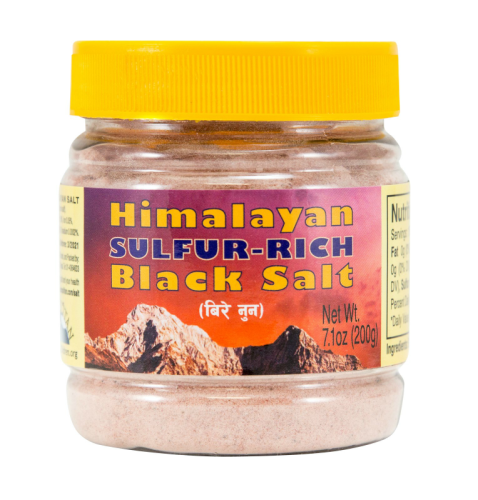 | Ingredients | Amount | Daily Value |
| --- | --- | --- |
| 100% naturally pure raw black Himalayan salt. | | * |
Himalayan Sulfur-Rich Black Salt
100% Natural Black Rock Salt
ON SALE - S155 Himalayan Sulfur-Rich Black Salt Overstock. Price reflects a 10% discount.
This salt contains high levels of beneficial sulfur and many trace minerals, hygienically hand-cleaned and crushed at a facility dedicated to this salt only. Sulphur is one of the most important elements for our health and longevity. It plays a crucial role in the activities of many enzymes, in the structural strength of hair, skin, gums, and joints, and in the processes of cellular repair and regeneration. It enables "sulfation" — a critical detoxification pathway in the liver and tissues, necessary for the survival of our cells and organs.
If you are pregnant or nursing consult your healthcare practitioner before use. Keep out of reach of children.