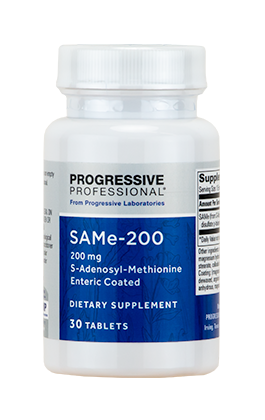 | Ingredients | Amount | Daily Value |
| --- | --- | --- |
| SAMe (from s-adenosyl-l-methionine disulfate p-toluenesulfonate) | 200 mg | * |
| * Daily Value not established. | | |
S-Adenosyl-Methionine Enteric Coated
SAMe is the most active of all methyl donors.◆ It participates in 35-40 essential biochemical processes including detoxification reactions and in manufacture of brain chemicals, antioxidants, and joint tissue structures.◆
Other Ingredients :
Microcrystalline cellulose, magnesium hydroxide, stearic acid, magnesium stearate, colloidal silica anhydrous, calcium oxide. Coating: (magnesium silicate, flake shellac dewaxed, arginine base, glycerol, colloidal silica anhydrous, magnesium stearate, sodium alginate).
Recommendations :
One enteric coated tablet daily, on an empty stomach, or as directed by a health care professional.
If you are pregnant, nursing, or taking medication, consult your healthcare practitioner before use. Keep out of reach of children.
Warnings:
Individuals being treated for neurological conditions should consult their health care practitioner before using this product. Individuals with bipolar (manic) depression should take SAMe only under professional medical supervision.