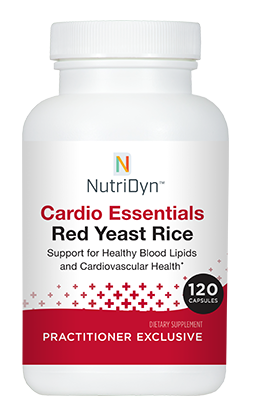 | Ingredients | Amount | Daily Value |
| --- | --- | --- |
| Red Yeast Rice (seed; Monascus purpureus) | 600 mg | * |
| * Daily Value (DV) not established. | | |
Cardio Essentials Red Yeast Rice
Support for Healthy Blood Lipids and Cardiovascular Health◆
Red Yeast Rice is now named Cardio Essentials Red Yeast Rice.
Cardio Essentials Red Yeast Rice contains a potent strain of red yeast rice extract called
Monascus purpureus
that supports cardiovascular function and healthy blood lipids.
◆
Clinical trials suggest that
Monascus purpureus
is an effective supplement for positively supporting blood lipid balance and cardiovascular health.
◆
A large body of evidence suggests
Monascus purpureus
produces a number of chemicals in the body which act to promote healthy blood lipid levels.
◆
Furthermore, red yeast rice extract appears to have antioxidant roles in the body, which can support cardiovascular function.
◆
The most relevant research-backed benefits derived from supplementation with Cardio Essentials Red Yeast Rice include:
●
Support cardiovascular function
◆
●
Support healthy blood lipid profiles
◆
●
Provide antioxidant support in the body
◆
Other Ingredients :
Hypromellose, microcrystalline cellulose.
Recommendations :
Take one capsule before each meal as a dietary supplement, or as directed by your healthcare practitioner.
If you are pregnant, nursing, or taking medication, consult your healthcare practitioner before use. Keep out of reach of children.
Warnings:
Do not use if you are taking prescription statin drugs.