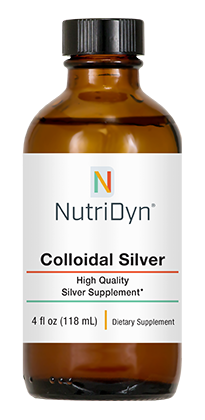 1 Teaspoon (5 mL) Supplies:
| Ingredients | Amount | Daily Value |
| --- | --- | --- |
| Silver | 20 ppm | * |
| * Daily Value not established. | | |
High-Quality Silver Supplement◆
Colloidal Silver is a bioactive product containing positively charged silver particles suspended in liquid.

Colloidal silver contains nanoparticles that are larger than most molecules but small enough that they cannot be seen by the naked eye. When silver ions come into contact with moisture in the body, it is theorized that the positively charged ions are attracted to and destroy unneeded negative ions.◆
Other Ingredients :
Deionized water.
Recommendations :
Take one teaspoon (5 mL) daily or as directed by your healthcare practitioner.
If you are pregnant, nursing, or taking medication, consult your healthcare practitioner before use. Keep out of reach of children.