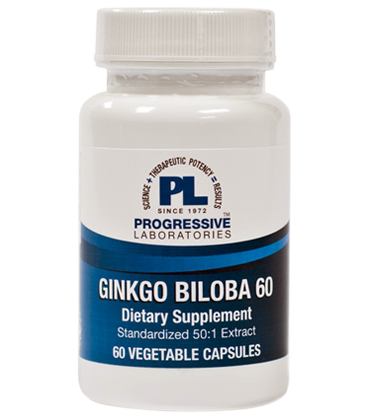 One vegetable capsule supplies:
Ingredients
Amount
Daily Value
Ginkgo Leaf Extract


(standardized to 24% ginkgo flavonglycosides and 6% terpene lactones)

60 mg
*
Natural Support for Cognitive Function♦
Ginkgo Biloba extract has demonstrated remarkable effects on various parts of the circulatory and nervous systems including:
Promotes energy metabolism

◆

Supports healthy glucose metabolism

◆

Supports healthy circulatory system

◆

Promotes healthy nerve signals

◆

Promotes antioxidant function

◆
The therapeutic action is due to its high content of terpenes, flavonoids, Proanthocyanidins, and a collection of unusual polycyclic structures known as Ginkgo heterosides (also flavonglycosides or ginkgolides).
Other Ingredients :
Rice flour, hydroxypropyl methylcellulose (vegetable capsule), vegetable lubricant.
Recommendations :
Take one capsule twice daily or as directed by your healthcare practitioner.
If you are pregnant or nursing consult your healthcare practitioner before use.