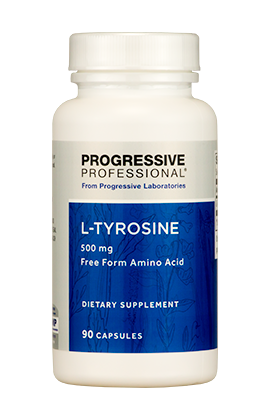 | Ingredients | Amount | Daily Value |
| --- | --- | --- |
| L-Tyrosine | 500 mg | * |
Tyrosine is a non-essential amino acid that is synthesized in the body from phenylalanine. As a building block for several important brain chemicals, tyrosine is needed to make epinephrine, norepinephrine, serotonin, and dopamine, all of which work to support mood.◆ Tyrosine also aids in the function of organs in the body responsible for making and regulating hormones, including the adrenal, thryroid, and pituitary glands.
Other Ingredients :
Vegetable lubricant, gelatin (capsule).
Recommendations :
Take one capsule three times daily or as directed by your healthcare practitioner.
If you are pregnant or nursing consult your healthcare practitioner before use.