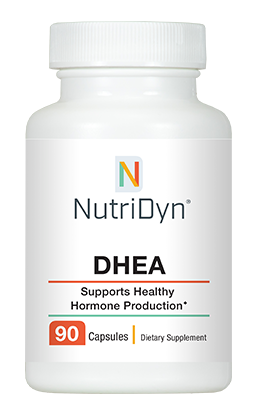 | Ingredient | Amount | Daily Value |
| --- | --- | --- |
| DHEA (Dehydroepiandrosterone) | 25 mg | * |
| * Daily Value (DV) not established. | | |
Supports Healthy Hormone Production◆
DHEA is an all-natural supplement comprised of the hormone dehydroepiandrostenedione (DHEA) that can help support healthy hormone production in males and females.
◆
DHEA works to regulate the body's production of key steroids such as androgens, estrogens, and cortisol.
In turn, DHEA has a multitude of functions in the body, including, but not limited to: supporting stress levels, regulating sex drive/libido, managing oxidative stress and inflammation, and helping cognitive function.
◆
Research suggests that DHEA supplementation can help regulate the production of key hormones for proper health and longevity.
◆
Given the importance of proper endocrine balance and function, individuals stand to benefit from DHEA in a variety of ways. The benefits and quality difference of DHEA include:
●
Support healthy androgen and estrogen production (which is crucial for overall health and longevity)
◆
●
Support proper stress levels
◆
●
Support healthy inflammation and oxidative stress
◆
Other Ingredients :
Microcrystalline cellulose, hypromellose, vegetable stearic acid, vegetable magnesium stearate.
Recommendations :
Take one capsule daily as a dietary supplement, or as directed by your healthcare practitioner.
If you are pregnant, nursing, or taking medication, consult your healthcare practitioner before use. Keep out of reach of children.
Form:
90 Vegetable Capsules