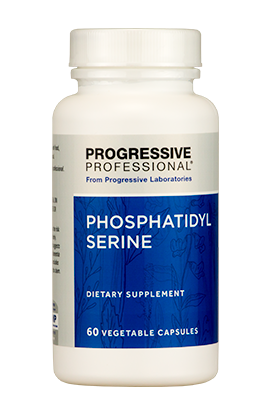 Three vegetable capsules supply:
| Ingredients | Amount | Daily Value |
| --- | --- | --- |
| Phosphatidylserine | 300 mg | * |
Support for Healthy Brain Function♦
Phosphatidylserine is a fat-soluble phospholipid that occurs endogenously in humans. It is the most abundant phospholipid in the human brain and is important in neuronal membrane functions such as maintenance of the cell's internal environment, signal transduction, secretory vesicle release, cell-to cell communication, and cell growth regulation. Phosphatidylserine is also a component of the mitochondrial membrane, where it might function as a metabolic reservoir for other phospholipids. Although the body is able to synthesize phosphatidylserine through an elaborate series of reactions and substantial energy expenditure, the body obtains most phosphatidylserine from dietary sources. Phosphatidylserine is present in small quantities in most foods.
Other Ingredients :
Microcrystalline cellulose, hydroxypropyl methylcellulose (vegetable capsule), soy lecithin, rice flour, L-leucine, and silica. Contains: Soy.
Recommendations :
Take three capsules with food or as directed by your healthcare practitioner.
If you are pregnant or nursing consult your healthcare practitioner before use.