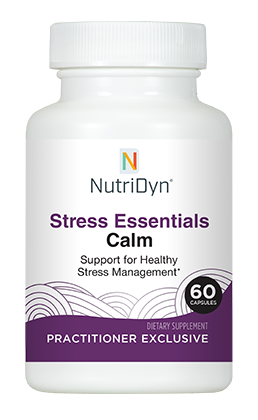 | Ingredient | Amount | Daily Value |
| --- | --- | --- |
| GABA (gamma-aminobutyric acid) | 550 mg | ** |
| L-Theanine (Suntheanine®) | 200 mg | ** |
| * Daily Value (DV) not established. | | |
Stress Essentials Calm (formerly Calm Eze)
Support for Healthy Stress Management◆
Formerly Calm Eze. Same great formula, new name!
Stress Essentials Calm is formulated with L-Theanine, from clinically validated and patented Suntheanine®, and gamma-aminobutryic acid (GABA). These two ingredients act as natural calming agents by increasing levels of GABA in the brain.
◆
When GABA levels increase in the brain, excitability decreases and relaxation ensues.
Stress Essentials Calm also promotes quality sleep.
◆
L-theanine supports the production of serotonin and helps GABA support a healthy bodily response to stress.
◆
Serotonin is then converted to melatonin in the brain, which in turns supports restful sleep.
◆
Supplementing with Stress Essentials Calm may include these benefits:
●
Supports relaxation
◆
●
Promotes restful sleep
◆
●
Promotes mental clarity
◆
●
Supports healthy cognitive function
◆
●
Supports healthy immune function
◆
●
Promotes healthy and balanced moods
◆
Other Ingredients :
Vegetable capsule, microcrystalline cellulose, vegetable magnesium stearate, silicon dioxide.
Recommendations :
Take two capsules daily as a dietary supplement, or as directed by your healthcare practitioner.
If you are pregnant, nursing, or taking medication, consult your healthcare practitioner before use. Keep out of reach of children.
Form:
60 Vegetable Capsules