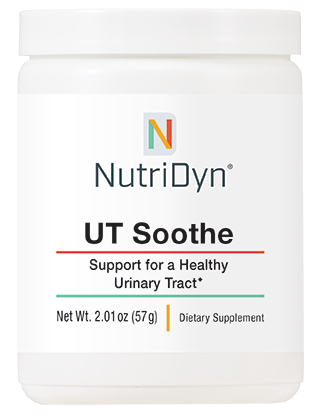 About 1 Scoop (1.9 g) Supplies:
| Ingredient | Amount | Daily Value |
| --- | --- | --- |
| D-Mannose | 1.9 g | * |
| * Daily Value (DV) not established. | | |
Support for a Healthy Urinary Tract◆
Urinary tract infections (UTIs) affect millions of people in the US every year, and account for nearly 25% of all infections. More than 90% of UTIs are caused by
Escherichia coli
(
E. coli
), a bacterium which is normally found in your intestinal tract. When
E.coli
seeps into your urinary system and multiplies, problems may arise.
UT Soothe contains a simple, but unique sugar called D-Mannose, which is primarily absorbed through the kidneys and rapidly excreted through the urine. This mechanism of metabolism is precisely why D-Mannose appears to support a healthy urinary tract.
◆
It has also been suggested that D-Mannose works to support a healthy urinary tract by encouraging activation of a specific glycoprotein called the Tamm-Horsfall protein, which promotes a healthy urinary tract.
◆
Given the importance of proper immune function and a healthy urinary tract on well-being, individuals stand to benefit from UT Soothe in a variety of ways. Below are some of the most pertinent research-backed benefits derived from UT Soothe:
●
Supports a healthy urinary tract
◆
●
All-natural source of D-Mannose
Other Ingredients :
D-Mannose.
Recommendations :
Mix one scoop in water 3-4 times daily for three days as a loading phase, then one scoop 1-2 times daily thereafter for maintenance as a dietary supplement, or as directed by your healthcare practitioner.
If you are pregnant, nursing, or taking medication, consult your healthcare practitioner before use. Keep out of reach of children.